Hello, readers!
So March is a pretty busy month for me, but I'm not planning on letting that interfere with my reading!
I've already one book on this list, so my goal is to get the other three done as well!
I have to work over spring break, but I'll still be trying to get my reading done during that time.
I've planned four books for this month, so let's get started!
---
1. The You I've Never Known by Ellen Hopkins
Synopsis: For as long as she can remember, it's been just Ariel and Dad. Ariel's mom disappeared when she was a baby. Dad says home is wherever the two of them are, but Ariel is now seventeen and after years of new apartments, new schools, and new faces, all she wants is to put down some roots. Complicating things are Monica and Gabe, both of whom have stirred a different kind of desire. Maya's a teenager who's run from an abusive mother right into the arms of an older man she thinks she can trust. But now she's isolated with a baby on the way, and life's getting more complicated than Maya ever could have imagined.
(There's more to this story than just this, but this is all I can put without spoilers because the synopsis spoils the entire book.)
2.) Kids of Appetite by David Arnold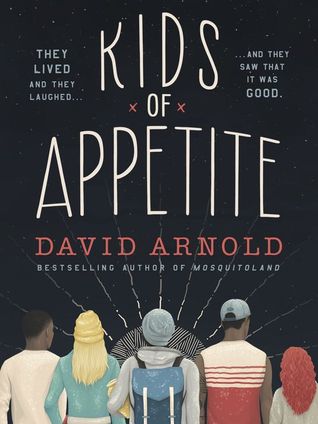 Synopsis: Victor Benucci and Madeline Falco have a story to tell. It begins with the death of Vic's father. It ends with the murder of Mad's uncle. The Hackensack Police Department would very much like to hear it. But in order to tell their story, Vic and Mad must focus on all the chapters in between. This is a story about: 1. A coded mission to scatter ashes across New Jersey. 2. The momentous nature of the Palisades in winter. 3. One dormant submarine. 4. Two songs about flowers. 5. Being cool in the traditional sense. 6. Sunsets & ice cream & orchards & graveyards. 7. Simultaneous extreme opposites. 8. A narrow escape from a war-torn country. 9. A story collector. 10. How to listen to someone who does not talk. 11. Falling in love with a painting. 12. Falling in love with a song. 13. Falling in love.
3.) The Forgetting by Sharon Cameron
Synopsis: What isn't written, isn't remembered. Even your crimes. Nadia lives in the city of Canaan, where life is safe and structured, hemmed in by white stone walls and no memory of what came before. But every twelve years the city descends into the bloody chaos of the Forgetting, a day of no remorse, when each person's memories – of parents, children, love, life, and self – are lost. Unless they have been written. In Canaan, your book is your truth and your identity, and Nadia knows exactly who hasn't written the truth. Because Nadia is the only person in Canaan who has never forgotten. But when Nadia begins to use her memories to solve the mysteries of Canaan, she discovers truths about herself and Gray, the handsome glassblower, that will change her world forever. As the anarchy of the Forgetting approaches, Nadia and Gray must stop an unseen enemy that threatens both their city and their own existence – before the people can forget the truth. And before Gray can forget her.
4.) Violent Ends by Shaun David Hutchinson
Synopsis: It took only twenty-two minutes for Kirby Matheson to exit his car, march onto school grounds, enter the gymnasium, and open fire, killing six and injuring five others. But this isn't a story about the shooting itself. This isn't about recounting that one unforgettable day. This is about Kirby and how one boy—who had friends, enjoyed reading, played saxophone in the band, and had never been in trouble before—became a monster capable of entering his school with a loaded gun and firing on his classmates. Each chapter is told from a different victim's viewpoint, giving insight into who Kirby was and who he'd become. Some are sweet, some are dark; some are seemingly unrelated, about fights or first kisses or late-night parties.  This is a book of perspectives—with one character and one event drawing them all together—from the minds of some of YA's most recognizable names.
---
I'll be back soon with a review of Ellen Hopkins's The You I've Never Known!
See you then!