Hello, readers!
So I'm in a major reading slump.
It's been slowly coming on since September, but it just hit me full force, and I just don't have the desire to read right now. So for now, I think I'm going to take a break with some things and post a few non-bookish things just to keep the blog updated and show you guys a few more of my interests.
When I get over this slump, you can definitely expect a return to your regularly scheduled Reviews by Hannah posts!
So today (I might do one of these a week and call it Miscellaneous Monday, but I don't know yet), I thought I would tell you about some of my favorite anime series!
I've talked a little bit before about how much I like to read manga, and that kind of spawned from my love of anime.
I've watched anime since I was seven years old, but I only really rediscovered it about two years ago. I haven't really gone deep into some of the more obscure anime, so a lot of these are really popular series that tons of people recommend as starter anime. For me, they're just some of my favorite series (some I love even more than other non-animated series that I love) and they're just all around fantastic series.
These will be in no particular order, because there's no way I could possibly rank them.
I'll be telling you if I watch it subbed or dubbed, its genres, where you can watch it, number of seasons/episodes, and a brief summary in my own words.
Let's get started!
---
1. Haikyuu!!
Subbed/Dubbed: Subbed
Genres: Sports
Where to Watch: Crunchyroll
Seasons: 2 complete (25 episodes each), third season currently being released (currently there are 7 episodes)
Summary: In junior high, Hinata Shoyo and Kageyama Tobio were rivals who faced off in Hinata's first and last tournament in junior high. Inspired by the famous Little Giant of Karasuno High School, Hinata enrolls at Karasuno and joins the volleyball club to follow in the footsteps of his hero and play the sport that he is so passionate about. Once there, however, he discovers his rival is now his teammate and they must work together to get the fallen heroes of Karasuno back to their old glory.
Haikyuu!! is the most reason addition to my list, because I am currently still watching it. I'm currently on season 3, episode 2 and I cannot tell you how much I LOVE this anime. I've been watching it for about a week and I never binge watch things but I just can't help it with this. Volleyball is one of my favorite sports, and this is just one big giant hit in the feelings. If you want an anime that will make you cry, laugh, and want to play volleyball, then this is for you!
2. Ouran High School Host Club
Subbed/Dubbed: Subbed and dubbed 🙂 (I've seen this anime so many times it's not even funny)
Genres: Drama, reverse harem, romantic comedy
Where to Watch: Netflix
Seasons: One, 26 episodes
Summary: Haruhi Fujioka, a first year scholarship student at the prestigious Ouran Academy, just wanted a quiet place to study. Instead, she stumbles into the seemingly unused music room #3, only to find it occupied by the Ouran Host Club. The members—Tamaki Suoh, Kyoya Ohtori, Hikaru Hitachiin, Kaoru Hitachiin, Takashi "Mori" Morinozuka, and Mitsukuni "Honey" Haninozuka—are intrigued by this new arrival, whom they believe to be a boy. When she accidentally breaks a vase worth millions of yen, she is forced to join the Host Club as a way to pay off her debt.
I've seen this anime more times in the past two years than I've seen any other show. It's so hilarious and heartwarming, and it's just an all-around perfect show. I love everything about it, from the animation to the voice acting to the characters. It moves at a very quick pace to fit everything into only 26 episodes, but the manga moves at a much slower pace and answers so many questions from the manga, so this is also a great gateway into manga.
3. Free! Iwatobi Swim Club and Free! Eternal Summer
Subbed/Dubbed: Subbed
Genres: Drama, slice of life, sports
Where to Watch: Crunchyroll
Seasons: Two, twelve episodes in the first, thirteen episodes in the second
Summary: Nanase Haruka and Tachibana Makoto have been best friends for years. In their second-year of high school, they run into their old swimming teammate, Hazuki Nagisa, who persuades them to form a swimming club at Iwatobi High School. Haru hasn't swam since his friend Matsuoka Rin left to swim in Australia, but when Rin returns, Haru finds that he isn't quite the same as when he left. So the three old teammates, along with Ryugazaki Rei, form a swim club to try to regain the love that all of them had for the sport.
This anime holds the special place in my heart of being the first anime that ever made me cry. I was a swimmer for eight years, and this anime hit so close to home on so many feelings. It also deals with issues such as not knowing what to do with your life after high school, and what happens when you only feel like you excel at one thing. It's surprisingly serious, which is one reason that I STRONGLY RECOMMEND that you watch the sub. The dub, as much as I love Funimation, makes this show sounds like a ridiculous bro comedy when it's not. Seriously, if you are capable of watching the sub, watch the sub.
4. Attack on Titan
Subbed/Dubbed: Subbed
Genres: Dark fantasy, post-apocalyptic
Where to Watch: Netflix
Seasons: One, 25 episodes. Season two is releasing early 2017
Summary: For one hundred years, humanity has been trapped behind walls. Their only choices are remaining behind the walls or being hunted by giants called titans. Eren Jaeger lives in Shiganshina, a village on the outermost wall. In one day, Eren's world is destroyed when a titan known as the Colossal Titan, tears through the wall and titans invade the only home he's known. Eren decides to then join the Scout Regiment, the soldiers who explore outside of the walls. He searches for answers to the mysteries surrounding the walls, the titans, and even himself.
So this is one that I NEVER would have watched on my own choice. As you can see by the first three on this list, I definitely go for the fluffy-looking stuff (even they do tend to make me cry). This anime is the opposite of that. It's bloody. It's dark. It's horrifying. But it's amazing. Luckily, I have a very strong-opinioned friend who forced me to watch this after a writing conference. I can't wait for the second season to be released, and who knows, if people like this, I might do a review of it once it comes out.
5. Fullmetal Alchemist: Brotherhood
Subbed/Dubbed: Dubbed
Genres: Adventure, science fantasy
Where to Watch: Crunchyroll
Seasons: 64 episodes
Summary: Brothers Edward and Alphonse Elric have made a terrible mistake, leaving Edward permanently disfigured with an automail arm and leg, and Alphonse without a body, his soul tethered to a suit of armor. This series chronicles their search for a philosopher's stone, a magical item that promises to heal them of their problems and get rid of the evidence of their mistake. But as their search takes them further into the mystery of Amestris, their nation, they slowly unravel details that are more horrifying than anything they could have imagined.
I would consider this one of the best shows I've ever watched, anime or not. The plot is so detailed, and it's interesting. The characters are all very unique and diverse, and the setting is amazing. As you watch it, you unravel the mysteries along with Edward and Alphonse, and I think it's great. Plus, it has some of the best openings in anime. Exhibit A, if you don't believe me.
6. Yu-Gi-Oh!
Subbed/Dubbed: Dubbed
Genres: Action, adventure, fantasy
Where to Watch: Crunchyroll or Netflix
Seasons: Six, about 45 episodes each
Summary: Yugi Mutou and his friends are big fans of the game Duel Monsters, a card game developed by Maximilian Pegasus. When Yugi's grandfather gives him a puzzle for him to solve, Yugi's soul is linked with that of an ancient Egyptian pharaoh who knows of the dangers of Duel Monsters, and the harsh news that they were once real and were harnessed as a dark force with the Millenium items, of which the puzzle is one of them. Yugi and his friends must work to keep the other Millenium items out of the hands of the people who are also searching to harness the dark power of duel monsters and bring humanity to extinction.
This is it. This is my first anime ever. Yu-Gi-Oh! was my entire life when I was little. I had a themed birthday party, I bought magazines, my first crush was Tristan Taylor. I still have all of my DVDs, and the Yu-Gi-Oh! movie is still one of my favorite movies. It's a fantastic show, even if the card games seem a little ridiculous at first. It's for those who love action and a little bit of high stakes in a children's card game.
7. Your Lie in April
Subbed/Dubbed: Dubbed
Genres: Romance, drama
Where to Watch: Netflix
Seasons: One, 22 episodes
Summary: Piano prodigy Kosei Arima used to be the best player in Japan, but ever since his mother/piano teacher passed away, he hasn't been able to hear the music. He lives his life as an ordinary high school student until Kaori Miyazono enters his life and changes the way he sees music, life, and the world around him.
Don't watch this one if you don't want to cry buckets of tears. I'm serious. It's so beautiful, the music is riveting, the characters will break your heart so many times but you'll keep coming back. It's an amazing show, and it deserves all the hype that it gets. But seriously I'm trying to prepare you here. Have tissues on hand. You'll cry.
8. Death Note
Subbed/Dubbed: Dubbed
Genres: Occult detective, psychological thriller
Where to Watch: Netflix
Seasons: One, 37 episodes
Summary: Light Yagami is a bored, overachieving high school student until he comes across the Death Note, a notebook from the world of the shinigami. After discovering its power, Light vows to harness it to rid the world of all evil and declare himself the ultimate leader, under his new alias of Kira.
I have a special place in my heart for Death Note. It was the anime that got me back into anime two years ago. It's the one everyone and their mother has seen or at least heard of, but I think it's amazing. It stresses me out beyond belief, but if you love a good cop show with a twist, watch Death Note. There are so many twists and turns that I could barely write that summary without writing something that could be considered a spoiler. So I highly recommend watching this show.
9. Pokemon: Indigo League
Subbed/Dubbed: Dubbed
Genres: Adventure. comedy-drama, fantasy
Where to Watch: Netflix
Seasons: One, 80 episodes
Summary: Do I need to summarize Pokemon? Because I don't think I can well enough.
I can't make an anime list and not mention Pokemon. Like this anime did so much for my view of television when I was a kid, and I was always watching it. I love it, and I still watch it a lot to this day. I've only watched Indigo League though, so I can't vouch for any of the other series.
10. Tokyo Ghoul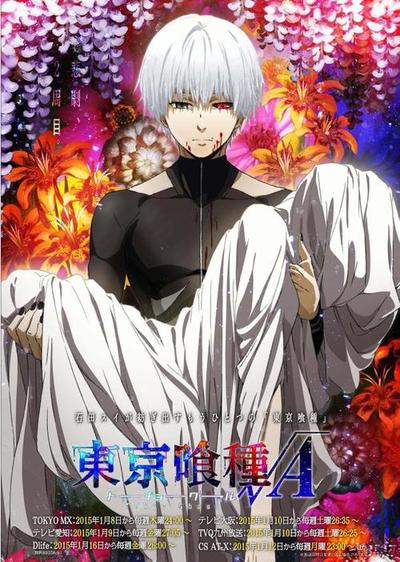 Subbed/Dubbed: Subbed and dubbed
Genres: Dark fantasy
Where to Watch: Funimation
Seasons: Two, 12 episodes each
Summary: Kaneki Ken is a normal university student living in Tokyo when he gets a date with who he believes is the love of his life. Until she is revealed to be a ghoul, one of the monsters who is terrorizing Tokyo. After Kaneki survives her attack, he is forced to live as a half-ghoul, half-human being ostracized by both groups in the city.
Kaneki is one of my favorite characters of all time, and I love seeing more and more about him in this series. I can't wait to see what happens in the third season when it's released!
---
And that wraps up my top 10 anime list!
Let me know if Miscellaneous Mondays sound interesting to you, and you'd want to hear more about my interests outside of books while I'm in this slump.
And if you like watching anime, recommend me some of your favorites in the comments! I'm always looking for new ones to watch.
And if you watch any based on my list, let me know what you think of them in the comments! I love talking about my favorite anime with people, just like with books!
See you next time!