Hello, readers!
Fall is upon us, and with it comes a whole batch of new YA releases, a lot of which I'm excited about. There's a lot of great books coming out this fall, including some installments in series that I haven't read yet, so if you don't see your most anticipated release on this list, it's probably just because I haven't read the series yet!
Let's get started!
---
1. Bright Smoke, Cold Fire by Rosamund Hodge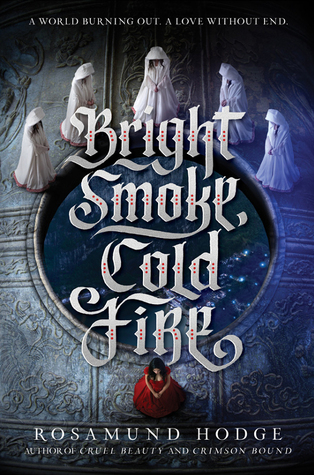 Expected Publication: September 27, 2016
Length: 448 pages
Summary: When the mysterious fog of the Ruining crept over the world, the living died and the dead rose. Only the walled city of Viyara was left untouched. The heirs of the city's most powerful—and warring—families, Mahyanai Romeo and Juliet Catresou share a love deeper than duty, honor, even life itself. But the magic laid on Juliet at birth compels her to punish the enemies of her clan—and Romeo has just killed her cousin Tybalt. Which means he must die. Paris Catresou has always wanted to serve his family by guarding Juliet. But when his ward tries to escape her fate, magic goes terribly wrong—killing her and leaving Paris bound to Romeo. If he wants to discover the truth of what happened, Paris must delve deep into the city, ally with his worst enemy . . . and perhaps turn against his own clan. Mahyanai Runajo just wants to protect her city—but she's the only one who believes it's in peril. In her desperate hunt for information, she accidentally pulls Juliet from the mouth of death—and finds herself bound to the bitter, angry girl. Runajo quickly discovers Juliet might be the one person who can help her recover the secret to saving Viyara. Both pairs will find friendship where they least expect it. Both will find that Viyara holds more secrets and dangers than anyone ever expected. And outside the walls, death is waiting…
It's a Shakespearean retelling! With twists and a really cool setting! Who wouldn't be excited about this?
2. Fear the Drowning Deep by Sarah Glenn Marsh
Expected Publication: October 4, 2016
Length: 304 pages
Summary: Witch's apprentice Bridey Corkill has hated the ocean ever since she watched her granddad dive in and drown with a smile on his face. So when a dead girl rolls in with the tide in the summer of 1913, sixteen-year-old Bridey suspects that whatever compelled her granddad to leap into the sea has made its return to the Isle of Man. Soon, villagers are vanishing in the night, but no one shares Bridey's suspicions about the sea. No one but the island's witch, who isn't as frightening as she first appears, and the handsome dark-haired lad Bridey rescues from a grim and watery fate. The cause of the deep gashes in Fynn's stomach and his lost memories are, like the recent disappearances, a mystery well-guarded by the sea. In exchange for saving his life, Fynn teaches Bridey to master her fear of the water — stealing her heart in the process. Now, Bridey must work with the Isle's eccentric witch and the boy she isn't sure she can trust — because if she can't uncover the truth about the ancient evil in the water, everyone she loves will walk into the sea, never to return.
This one's a bit different than my usual reads, but the plot sounds really interesting and I'm curious to see what Sarah Glenn Marsh will do with it!
3. Replica by Lauren Oliver
Expected Publication: October 4, 2016
Length: 544 pages
Summary: Gemma has been in and out of hospitals since she was born. 'A sickly child', her lonely life to date has revolved around her home, school and one best friend, Alice. But when she discovers her father's connection to the top secret Haven research facility, currently hitting the headlines and under siege by religious fanatics, Gemma decides to leave the sanctuary she's always known to find the institute and determine what is going on there and why her father's name seems inextricably linked to it. Amidst the frenzy outside the institute's walls, Lyra – or number 24 as she is known as at Haven – and a fellow experimental subject known only as 72, manage to escape. Encountering a world they never knew existed outside the walls of their secluded upbringing , they meet Gemma and, as they try to understand Haven's purpose together, they uncover some earth-shattering secrets that will change the lives of both girls forever.
This book just sounds so cool! Two separate stories that meet at their ends, which is in the physical middle of the book. That sounds super confusing, but the concept is super cool and I can't wait to read it!
4. Unblemished by Sara Ella
Expected Publication: October 11, 2016
Length: 352 pages
Summary: Eliyana has always recoiled from her own reflection in the mirror. But what if that were only one Reflection—one world? What if another world existed where her blemish could become her strength? Eliyana is used to the shadows. With a hideous birthmark covering half her face, she just hopes to graduate high school unscathed. That is, until Joshua hops a fence and changes her perspective. No one, aside from her mother, has ever treated her as normal. Maybe even beautiful. Because of Joshua, Eliyana finally begins to believe she could be loved. But one night her mother doesn't come home, and that's when everything gets weird. Now Joshua is her new, and rather reluctant, legal Guardian. Add a hooded stalker and a Central Park battle to the mix and you've gone from weird to otherworldly. Eliyana soon finds herself in a world much larger and more complicated than she's ever known. A world enslaved by a powerful and vile man. And Eliyana holds the answer to defeating him. How can an ordinary girl, a blemished girl, become a savior when she can't even save herself?
This one sounds interesting, so it'll be cool to see how this story plays out!
5. Glitter by Aprilynne Pike
Expected Publication: October 25, 2016
Length: 384 pages
Summary: Outside the palace of Versailles, it's modern day. Inside, the people dress, eat, and act like it's the eighteenth century—with the added bonus of technology to make court life lavish, privileged, and frivolous. The palace has every indulgence, but for one pretty young thing, it's about to become a very beautiful prison. When Danica witnesses an act of murder by the young king, her mother makes a cruel power play . . . blackmailing the king into making Dani his queen. When she turns eighteen, Dani will marry the most ruthless and dangerous man of the court. She has six months to escape her terrifying destiny. Six months to raise enough money to disappear into the real world beyond the palace gates. Her ticket out? Glitter. A drug so powerful that a tiny pinch mixed into a pot of rouge or lip gloss can make the wearer hopelessly addicted. Addicted to a drug Dani can sell for more money than she ever dreamed. But in Versailles, secrets are impossible to keep. And the most dangerous secret—falling for a drug dealer outside the palace walls—is one risk she has to take.
I'm so excited for this one! The story sounds exciting and suspenseful, and just really cool, so I can't wait to pick this one up and read it!
3. The Sun Is Also a Star by Nicola Yoon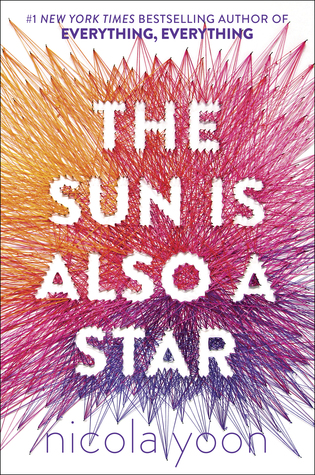 Expected Publication: November 1, 2016
Length: 344 pages
Summary: Natasha: I'm a girl who believes in science and facts. Not fate. Not destiny. Or dreams that will never come true. I'm definitely not the kind of girl who meets a cute boy on a crowded New York City street and falls in love with him. Not when my family is twelve hours away from being deported to Jamaica. Falling in love with him won't be my story. Daniel: I've always been the good son, the good student, living up to my parents' high expectations. Never the poet. Or the dreamer. But when I see her, I forget about all that. Something about Natasha makes me think that fate has something much more extraordinary in store—for both of us. The Universe: Every moment in our lives has brought us to this single moment. A million futures lie before us. Which one will come true?
I've been meaning to read a Nicola Yoon novel for quite a long time, and this one sounds like a really good read! I'm excited for this one!
7. Dead Girls Society by Michelle Krys
Expected Publication: November 8, 2016
Length: 304 pages
Summary: Hope is sick of everyone treating her like she's breakable. Sure, she has cystic fibrosis (basically really bad lungs), but she's tired of being babied by her mom and her overprotective best friend, Ethan, not to mention worrying about paying for her expensive medication and how she's going to afford college.And she's bored with life in her run-down New Orleans suburb. When an invitation arrives from a mysterious group that calls itself the Society, Hope jumps at the chance for some excitement. This could be her ticket out. All she has to do is complete a few dares and she just might win some real money.
But the Society isn't all that it seems . . . and soon Hope finds that playing the game isn't a choice—it's a requirement.
8. Heartless by Marissa Meyer
Expected Publication: November 8, 2016
Length: 464 pages
Summary: Catherine may be one of the most desired girls in Wonderland, and a favorite of the yet-unmarried King of Hearts, but her interests lie elsewhere. A talented baker, all she wants is to open a shop with her best friend and supply the Kingdom of Hearts with delectable pastries and confections. But according to her mother, such a goal is unthinkable for the young woman who could be the next Queen. At a royal ball where Cath is expected to receive the king's marriage proposal, she meets Jest, the handsome and mysterious court joker. For the first time, she feels the pull of true attraction. At the risk of offending the King and infuriating her parents, she and Jest enter into an intense, secret courtship. Cath is determined to define her own destiny and fall in love on her terms. But in a land thriving with magic, madness, and monsters, fate has other plans.
I'm really excited for this one because I love the Queen of Hearts, and I'm really liking Marissa Meyer's writing right now since I finished Cinder this month and plan to move on to the other Lunar Chronicles books very soon.
---
And those are my anticipated releases of fall 2016!
I really hope that I'll be able to pick all of these up soon after they're released, although some may have to wait due to my budget being a bit lower during school time.
Come back next time for another fun book post!
See you then!