Hello, readers!
It's the end of the month, so it's time to let you know what books that I read in August and the books that I bought!
I read three books in August and I bought four, so let's get started!
---
1. Harry Potter and the Cursed Child by J.K. Rowling, Jack Thorne, and John Tiffany
Series: Harry Potter, #8
Rating: 5 stars
Time I Read: 1 day
Synopsis: It was always difficult being Harry Potter and it isn't much easier now that he is an overworked employee of the Ministry of Magic, a husband and father of three school-age children. While Harry grapples with a past that refuses to stay where it belongs, his youngest son Albus must struggle with the weight of a family legacy he never wanted. As past and present fuse ominously, both father and son learn the uncomfortable truth: sometimes, darkness comes from unexpected places.
2. The McCullagh Inn in Maine by Jen McLaughlin
Series: McCullagh Inn, #1
Rating: 3 stars
Time I Read: 4 days
Synopsis: Chelsea McCullagh escapes to Maine with a gun and fresh bruises. She's ready to begin anew-until she runs into her old flame, Jeremy Holland. As he helps to fix her inn, her heart heals and they rediscover what they once loved about each other. But as the two play house, it starts to seem too good to last.
3. Places No One Knows by Brenna Yovanoff
Series: N/A
Rating: 5 stars
Time I Read: 19 days
Synopsis: Waverly Camdenmar spends her nights running until she can't even think. Then the sun comes up, life goes on, and Waverly goes back to her perfectly hateful best friend, her perfectly dull classes, and the tiny, nagging suspicion that there's more to life than student council and GPAs. Marshall Holt is a loser. He drinks on school nights and gets stoned in the park. He is at risk of not graduating, he does not care, he is no one. He is not even close to being in Waverly's world. But then one night Waverly falls asleep and dreams herself into Marshall's bedroom—and when the sun comes up, nothing in her life can ever be the same. In Waverly's dreams, the rules have changed. But in her days, she'll have to decide if it's worth losing everything for a boy who barely exists.
4. Nerve by Jeanne Ryan
Series: N/A
Rating: 4 stars
Time I Read: 7 days
---
Now, for my book haul!
1. Harry Potter and the Goblet of Fire by J.K. Rowling
Series: Harry Potter, #4
Length: 734 pages
Have I Read It: Yes
2. Cupcake by Rachel Cohn
Series: Cyd Charisse, #3
Length: 336 pages
Have I Read It: No
3. Reality Check by Jen Calonita
Series: N/A
Length: 277 pages
Have I Read It: Yes
4. Shadow Kiss by Richelle Mead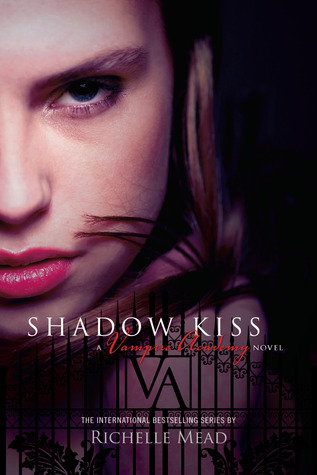 Series: Vampire Academy, #3
Length: 443 pages
Have I Read It: No
---
And that's it for my August wrap-up and haul!
Come back tomorrow for my August favorites!
See you then!