Hello, readers!
I thought it was time for another little fun book tag, so I chose this one, the TBR tag.
I found the tag on the blog Spines & Covers, and their post can be found here.
Let's get started!
---
1. How do you keep track of your TBR pile?
I use Goodreads to track what books that I want to read, and then when I'm actually deciding what I want to read, I use Google Keep to make checklists of the ones I want to read.
2. Is your TBR mostly print books or e-books?
Print! I prefer print books, and I usually only get free books on my Kindle to read when I have no other print books to read.
3. How do you determine which book from your TBR to read next?
If I've recently bought books, then I just go in the order that I purchased them in. If I haven't bought any books, I just pull up my TBR list, go to the library, and buy the first four that they have off of my list!
4. A book that's been on your TBR the longest?
The Host by Stephenie Meyer. I've had this on my TBR since I first opened my Goodreads account (I added it to my TBR list on July 7, 2013!) and I got so close to finishing it once, but I just haven't gotten around to it yet. I'll read it eventually!
5. A book that you recently added to your TBR pile?
I take TBR pile to mean the books that I own that are to be read, but I'll do the most recent book I bought that's on my TBR and just the last book I added to my TBR!
Most recent book I bought on my TBR:
Cupcake by Rachel Cohn! I picked this one up without knowing it's the third book in a series…and I haven't read the first two. So it will be a while until I get to this one, but I'll get there!
Most recent addition to my Goodreads TBR list:
Vassas in the Night by Sarah Porter! I entered a giveaway for this one, and it added it to my TBR, so this is my most recent addition!
6. A book on your TBR strictly because of its beautiful cover?
The Last Good Day of the Year by Jessica Warman! I bought this book because the cover just captivated me in the store, and it's on my September TBR so I'll be getting to this one very soon!
7. A book on your TBR that you never plan on actually reading?
I want to read every book I have on my TBR so none!
8. An unpublished book on your TBR that you're excited for?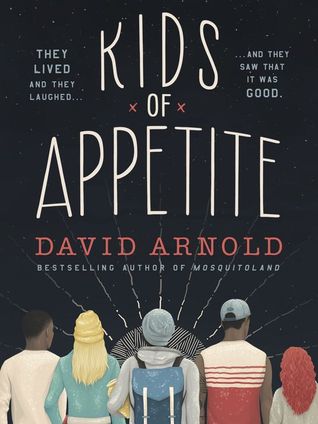 Kids of Appetite by David Arnold! I loved Mosquitoland, so I'm really excited for more of David Arnold's writing!
9. A book on your TBR that basically everyone has read except you?
Shatter Me by Tahereh Mafi! I feel like everyone in the world has read this book except for me! I really want to read this, but it just hasn't worked out yet. Maybe soon!
10. A book on your TBR that everyone recommends to you?
Hollow City by Ransom Riggs! I read Miss Peregrine's Home for Peculiar Children the year it came out and then just…never picked this one up. My friends keep telling me to just finish the series, so hopefully I will soon.
11. A book on your TBR that you're dying to read?
None, currenty. They're all books that I've picked out on Goodreads, none that I've been super excited for recently.
12. The number of books on your Goodreads TBR shelf?
This is going to be embarrassing…I jut really like books and I want to read a lot of them, okay?
I have a grand total of 437 books on my Goodreads TBR shelf.
---
And that is my TBR tag! I have a lot of reading to do!
See you next time with a book review!