Hello, readers!
It's the end of the month, and that means it's time to let you know what books I read this month, and which ones I purchased over the month!
Let's get started, with the wrap-up first and the haul second!
---
1.) So Not Happening by Jenny B. Jones
Series: The Charmed Life, #1
Rating: 4 stars
Time I Read: 4 days
Synopsis: Bella Kirkwood had it all: A-list friends at her prestigious private school, Broadway in her backyard, and Daddy's MasterCard in her wallet. Then her father, a plastic surgeon to the stars, decided to trade her mother in for a newer model. When Bella's mom falls in love with a man she met on the Internet–a factory worker with two bratty sons–Bella has to pack up and move in with her new family in Truman, Oklahoma. On a farm no less! Forced to trade her uber-trendy NYC lifestyle for  down-home charm, Bella feels like a pair of Rock & Republic jeans in a sea of Wranglers. At least some of the people in her new high school are pretty cool. Especially the hunky football player who invites her to lunch. And maybe even the annoying–but kinda hot–editor of the school newspaper. But before long, Bella smells something rotten in the town of Truman, and it's not just the cow pasture. With her savvy reporter's instincts, she is determined to find the story behind all the secrets.
Note: I technically read this one in May, but my May wrap-up had already gone live and I hadn't expected to finish this book in May, so it ended up in my June wrap-up.
2.) The Raven King by Maggie Stiefvater
Series: The Raven Cycle, #4
Rating: 5 stars
Time I Read: 5 days
Synopsis: Nothing living is safe. Nothing dead is to be trusted. For years, Gansey has been on a quest to find a lost king. One by one, he's drawn others into this quest: Ronan, who steals from dreams; Adam, whose life is no longer his own; Noah, whose life is no longer a lie; and Blue, who loves Gansey… and is certain she is destined to kill him. Now the endgame has begun. Dreams and nightmares are converging. Love and loss are inseparable. And the quest refuses to be pinned to a path.
3.) Mosquitoland by David Arnold
Series: N/A
Rating: 4 stars
Time I Read: 8 days
Synopsis: After the sudden collapse of her family, Mim Malone is dragged from her home in northern Ohio to the "wastelands" of Mississippi, where she lives in a medicated milieu with her dad and new stepmom. Before the dust has a chance to settle, she learns her mother is sick back in Cleveland. So she ditches her new life and hops aboard a northbound Greyhound bus to her real home and her real mother, meeting a quirky cast of fellow travelers along the way. But when her thousand-mile journey takes a few turns she could never see coming, Mim must confront her own demons, redefining her notions of love, loyalty, and what it means to be sane.
4.) Identical by Ellen Hopkins
Series: N/A
Rating: 2 stars
Time I Read: 3 days
Synopsis: Kaeleigh and Raeanne are identical down to the dimple. As daughters of a district-court judge father and a politician mother, they are an all-American family — on the surface. Behind the facade each sister has her own dark secret, and that's where their differences begin. For Kaeleigh, she's the misplaced focus of Daddy's love, intended for a mother whose presence on the campaign trail means absence at home. All that Raeanne sees is Daddy playing a game of favorites — and she is losing. If she has to lose, she will do it on her own terms, so she chooses drugs, alcohol, and sex. Secrets like the ones the twins are harboring are not meant to be kept — from each other or anyone else. Pretty soon it's obvious that neither sister can handle it alone, and one sister must step up to save the other, but the question is — who?
5. The Ghost Files by Apryl Baker
Series: The Ghost Files, #1
Rating: 4 stars
Time I Read: 6 days
Synopsis: Cherry blossom lipstick: check. Smokey eyes: check. Skinny jeans: check. Dead kid in the mirror: check. For sixteen year old Mattie Hathaway, this is her normal everyday routine. She's been able to see ghosts since her mother tried to murder her when she was five years old. No way does she want anyone to know she can talk to spooks. Being a foster kid is hard enough without being labeled a freak too. Normally, she just ignores the ghosts and they go away. That is until she see's the ghost of her foster sister… Sally. Everyone thinks Sally's just another runaway, but Mattie knows the truth—she's dead. Murdered. Mattie feels like she has to help Sally, but she can't do it alone. Against her better judgment, she teams up with a young policeman, Officer Dan, and together they set out to discover the real truth behind Sally's disappearance. Only to find out she's dealing with a much bigger problem, a serial killer, and she may be the next victim… Will Mattie be able to find out the truth before the killer finds her?
6. The Crown by Kiera Cass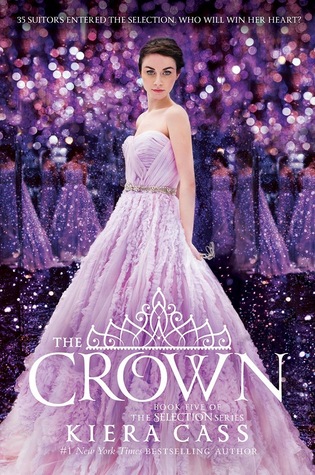 Series: The Selection, #5
Rating: 5 stars
Time I Read: 2 days
Synopsis: When Eadlyn became the first princess of Illéa to hold her own Selection, she didn't think she would fall in love with any of her thirty-five suitors. She spent the first few weeks of the competition counting down the days until she could send them all home. But as events at the palace force Eadlyn even further into the spotlight, she realizes that she might not be content remaining alone. Eadlyn still isn't sure she'll find the fairytale ending her parents did twenty years ago. But sometimes the heart has a way of surprising you…and soon Eadlyn must make a choice that feels more impossible—and more important—than she ever imagined.
---
Now for my June book haul!
1.) The Raven King by Maggie Stiefvater
Series: The Raven Cycle, #4
Length: 438 pages
Have I Read It: Yes
2.) Mosquitoland by David Arnold
Series: N/A
Length: 342 pages
Have I Read It: Yes
3.) Red Queen by Victoria Aveyard
Series: Red Queen, #1
Length: 388 pages
Have I Read It: No
4. ) The Crown by Kiera Cass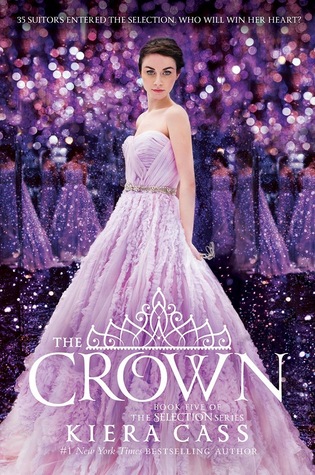 Series: The Selection, #5
Length: 279 pages
Have I Read It: Yes
5.) I'll Give You the Sun by Jandy Nelson
Series: N/A
Length: 375 pages
Have I Read It: No
---
I really liked reading these books this month, and I look forward to reading the two books in my haul that I haven't read yet! See you tomorrow for my June book favorites!